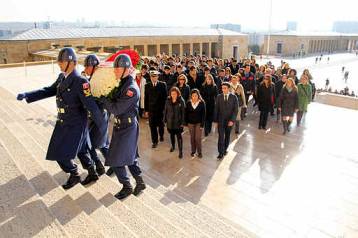 Honor Guards and university students ascend the steps to the tomb of modern Turkey's revered founder Mustafa Kemal Ataturk and prepare to lay a wreath. The Ataturk Museum, where Project Worldview's Stephen Cook sought answers to questions, is in the background.
photo credit: Brian Wheeldon
Project Worldview founder and global education pioneer Stephen Cook recently visited two sites in Ankara, Turkey in his pursuit of answers to worldview-related questions.
While greatly admiring the founder of modern Turkey, Mustafa Kemal Ataturk, Cook has been intrigued by seemingly incompatible themes that apparently peacefully coexist in Ataturk's worldview. While few doubt the fundamental place of something like Education for Democracy (theme #31) in Ataturk's lifelong mission, to be able to accomplish what he did required his sometime embrace of Militarism (theme #46B) and Authoritarianism (theme #20B).
Similarly, while few doubt Ataturk's fervent nationalistic embrace of something like Proud Identification (theme #37A), at times he also seems like a Global Citizen (theme #37B). In this regard, contrast his advice to Turkish youth, "Turk! Be proud! Work hard! Be self-confident!" with his 1934 message on a memorial to Allied (ANZAC) soliders who died in 1915 at Gallipoli: ""You are now lying in the soil of a friendly country. Therefore, rest in peace. There is no difference between the Johnnies and the Mehmets to us where they lie side by side here in this country of ours. You, the mothers, who sent their sons from faraway countries, wipe away your tears; your sons are now lying in our bosom and are in peace. After having lost their lives on this land they have become our sons as well." Click here for a summary of Cook's characterization of Ataturk's worldview.
Besides the Ataturk Museum, Cook's other stop in Ankara was the Anatolian Civilizations Museum. Having long been intrigued by Julian Jaynes' 1977 classic book The Origin of Consciousness in the Breakdown of the Bicameral Mind, he wanted a first-hand look at some of the Hittite artifacts Jaynes' points to as evidence bolstering his ideas. While Cook finds the stress-filled, war-torn 2nd millennium BCE (2000--1000 BCE) era--when Jaynes believes the bicameral mentality was replaced by modern subjective consciousness--as particularly fascinating, he's also intrigued by the thought that relics of the ancient mentality exist in some people's heads today! Click here for relevant links in this regard.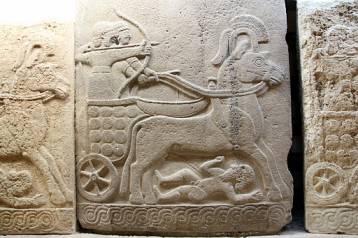 Section of massive stone relief engravings from the Neo-Hittite era (1200BC--700BC) on display at the Anatolian Civilizations Museum in Ankara, Turkey.
photo credit: Brian Wheeldon