The Worldview Literacy Book
A companion to the project Worldview website (designed to work with its version 2.0 theme structure), with 202 big pages, nearly 200,000 words and 128 figures —it is a great reference book. More importantly it provides a systematic way to build your knowledge and expand your worldview —based on eighty worldview themes and fifty worldview development questions. These are life's big questions, like "Why am I here?" "What is the nature of Reality?" "How do I conceive of God?"
important note: this book is only available bundled with The Worldview Theme Song Book as part of the new Worldview Literacy and Emotional Intelligence course. It no longer includes a separate CD as the files once on that CD are now part of the project Worldview website.
In building your worldview literacy and expanding your worldview, you'll be aided by
· The Worldview Literacy Mini Encyclopedia (elaborately cross-referenced, with nearly 1300 entries)
· Computer Assisted Quizzes (550 self test questions, >660 questions to gauge compatibility, spur discussion)
· The Worldview Literacy Directed Individual Study Course (syllabus, schedules, activities, unit exams)
· The Worldview Explorer Game (for one to four players: learn about yourself and others—and have fun!)
· The Worldview Analysis program (analyzes worldviews, checks consistency, and compares scores)
· The Custom Cards program (creates a deck of playing cards that embodies your worldview!)
By Stephen P. Cook, founder Project Worldview and author of Coming of Age in the Global Village. The first to point out The Worldview Literacy Book is so broad in scope that no one is well qualified to have written it, Cook has twenty five years experience as a teacher (notably at Arkansas Tech University, and Arkansas School for Mathematics and Sciences). He is a Phi Beta Kappa graduate of UCLA with degrees in astronomy and physics.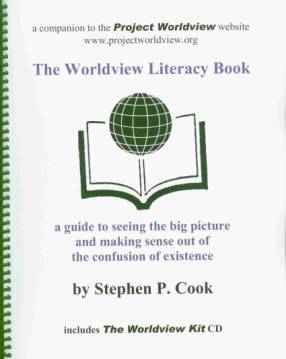 Designed To Be Fair, Even-Handed and Used By a Wide Audience:
· Open-minded, inquisitive and caring people who love learning, high school age and up
· Classroom teachers and teachers, students, and parents involved in home schooling
· Life coaches and those seeking a life coach
· Potential life partners seeking to discuss beliefs, values, and assess compatibility
· Mediators, counselors, those professionally engaged in helping others resolve conflicts
· Ministers, preachers or those often faced with tackling "the big questions"
· Psychiatrists, therapists or those involved in therapy
Published By Parthenon Books
July 2009 ISBN: 978-0-9627349-1-5