project WORLDVIEW
Home
copyright 2019
The Choices We Make Booklet alternative to the playing cards
This is a 7" x 8.5" twenty-six page booklet you can print yourself*
Whether presented on the cards or in the booklet, the theme card content and choices offered are the same. Instead of contrasting themes on front / back sides of cards, in the booklet they're on left or right sides of a bigger frame. While lacking the tactile feel that gripping playing cards provides, having them instead printed in this bound booklet offers certain advantages.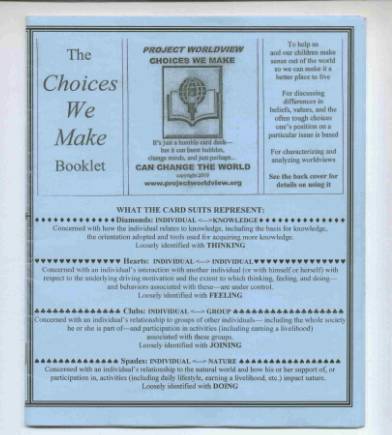 *To print a booklet for your personal use on legal size paper...
You'll use your own printer and you'll need MS Word software and this .doc file.
You also need a printer that will print out to the edges of legal paper with tiny (0.2") margins and, after printing, a big stapler for assembling small booklets.

Note: In actual printing, be aware that the odd numbered pages (in the 14 page .doc file) will be printed on the fronts of the 8.5" x 14" legal sheets, while the even numbered pages will print on the back sides of those sheets.
The seven sheets you print on both sides will be folded, collated, and spine stapled,
so as you turn the pages the printed page #s advance as you'd expect.

If you lack these resources, but still want a printed booklet
click here for a free copy via a bundled purchase option
or click here to make a bulk purchase of ten copies for classroom use.
This .doc file is copyright 2019 Project Worldview but they may be reproduced for your personal use only or in small classroom quantities for non-commercial educational use without any changes to file copy.
go to the Choices We Make menu page
project WORLDVIEW Home copyright
2019