project WORLDVIEW copyright 2019 Home
The Development of the Project Worldview Theme Structure
1990 -- 2020
1990 - 2005 : version 1.0 from Coming of Age in the Global Village
26 worldview themes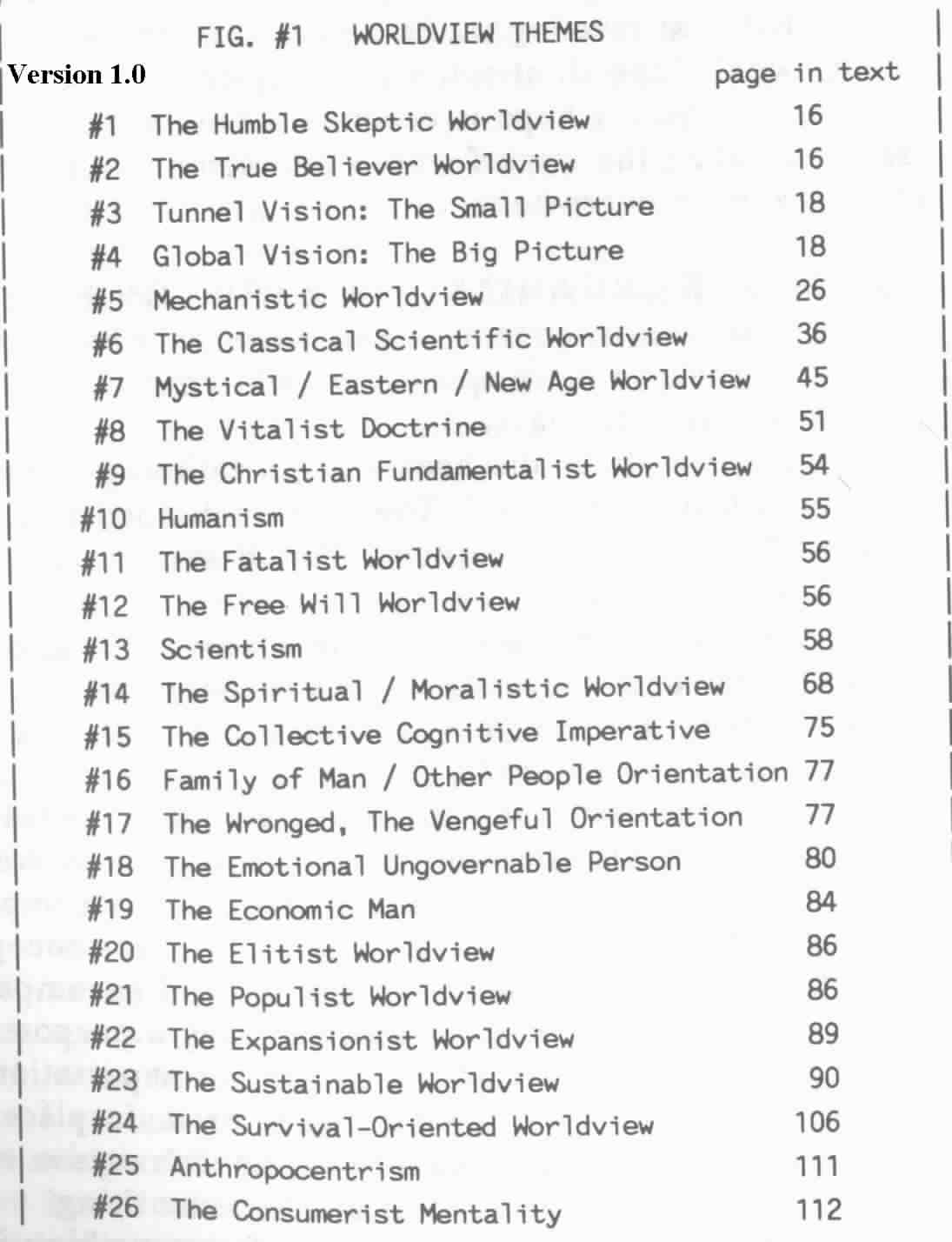 2006 - 2014 : version 2.0 in Reality Marketplace & The Worldview Literacy Book
80 Themes on 52 single-sided Playing Cards
With this classification scheme, the eighty themes are split into four groups of twenty, with each group linked
to the card's suit: diamonds, hearts, clubs, and spades. The Worldview Kit provides single-sided Big Blue Cards and program
to create customized card deck based on your worldview
The characterization of an individual's worldview is divided into four parts (these are the four wings of The Reality Marketplace):
2014 - 2019 : version 3.0 from website & The Worldview Theme Songbook
Click here for a list of all 81 themes in this version 3.0 theme structure with TFJD characterization code for each
81 worldview themes divided into four subthemes==>324 Wikipedia linked articles
TFJD Codes and Volatility Index provide an alternate way to characterize worldview themes
2019 - present: version 4.0 from Choices We Make card deck
88 worldview themes + 16 meta themes = 104 themes on 52 double-sided cards
The sixteen most basic ones--connected with eight basic choices-- are called meta themes (designated as aces & kings).
PROJECT WORLDVIEW
CHOICES WE MAKE

Itís just a humble card deckó but it can burst bubbles, change minds, and just perhaps
CAN CHANGE THE WORLD
copyright 2019
www.projectworldview.org
built on 104 worldview themes presented on fifty-two double-sided playing cards categorized by card suit as follows:
please stay tuned and bear with us as we fully implement this structure!
CAUTION: "As you shop in "The Reality Marketplace" avoid spending your "reality cash" too early, before you have seen everything. "
from Coming of Age in the Global Village, by Stephen P. Cook, with Donella H. Meadows.